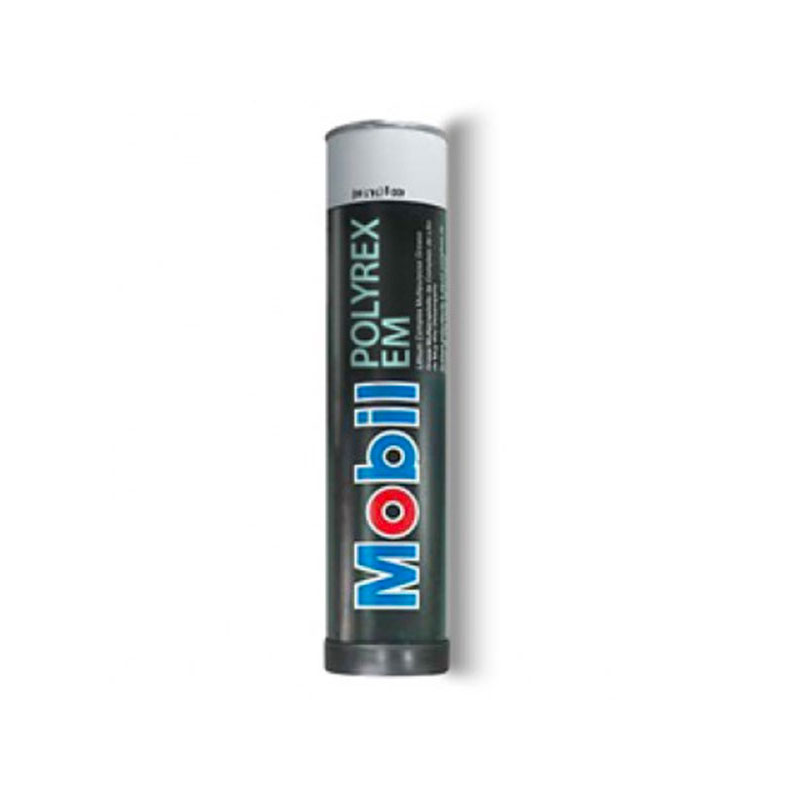 Mobil Polyrex EM 400g Cartridge
Super-premium Mobil Polyrex™ EM Series greases are specially formulated for electric-motor bearings. The advanced thickener formulation and proprietary manufacturing techniques provide improved bearing performance and protection for long electric motor life.
Product Description
Mobil Polyrex EM greases are recommended by many major bearing and electric motor manufacturers for long-life lubrication of electric motor ball and roller bearings.
Mobil Polyrex EM 103 is more specifically recommended for applications such as vertically mounted bearings, or very large motors where a stiffer grease consistency may be required by the OEM, and low noise properties are not required.
Mobil Polyrex EM greases have been shown to be compatible with a number of ExxonMobil lithium complex greases, as well as competitive electric motor mineral polyurea products, as determined by the methodology of ASTM D6185.  For specific questions about grease compatibility, contact your Mobil representative.
Key applications include:
Electric motor bearings

Fin fan bearings

High-temperature pump bearings

Factory-filled, sealed-for-life ball bearings

Ball or roller bearings operating at high temperatures where low oil separation is required

Mobil Polyrex EM for ball or roller bearings operating in noise sensitive environments